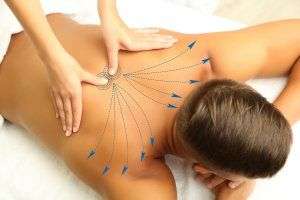 Massage dates back at least to the second century B.C., as it's described in ancient Chinese texts. Practitioners in India and Egypt developed their own methods of massage. In fact, all over the world, people use their hands and mechanical devices to improve circulation, unknot muscles, reduce pain and generally improve health.
Nonetheless, massage therapy is a large and varied field. For example, the type of massage that's suitable for an athlete is different than what a hospice patient needs. If you're considering massage as a method of pain relief, you may need to look around to find the right practitioner for you.
Evidence for Massage
The long history of massage is full of anecdotal evidence of its healing power, but there have not been many scientific studies conducted about the topic. A study published in Evidence-Based Complementary and Alternative Medicine in 2007 reviewed previous research on massage and pain relief, and found the strongest evidence for massage as a way to decrease non-specific lower back pain. Shoulder pain and headaches also responded fairly well to massage.
How does massage relieve pain? In a 2010 study, researchers at the University of California, Los Angeles found that massage made people produce lower amounts of hormones responsible for stress and inflammation.
Chronic Pain
Many people with chronic pain turn to massage for relief. The International Association for the Study of Pain defines chronic pain as continuous or recurrent, and persisting for about three months or more. Chronic pain can affect a certain body part, such as your back, or can be tied to a more general all-over condition, such as fibromyalgia.
Arthritis
After massage, some arthritis sufferers report improvements in range of motion, hand grip strength and joint function as well as decreased pain and finger stiffness. A 2010 study published in the International Journal of Neuroscience concluded that moderate to light pressure produced the best results for patients with arthritis.
Massage and Chiropractic
Because massage decreases pain in many patients, chiropractors often incorporate massage into the treatment plan. This could be a short massage delivered by the chiropractor along with spinal adjustments. Or, if the patient needs a longer massage or specific techniques outside the chiropractor's repertoire, the patient might schedule a visit with an outside massage therapist. Nowadays, holistic professionals with different expertise often opt to share space. A chiropractor and massage therapist working together pool their knowledge and optimize their patients' healing.
If you'd like to see how chiropractic and massage complement each other, call our clinic today. We can help you feel your best.